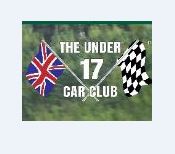 We are please to announce that The Under 17 Car Club will be joining us again this year at the Show.
With a dedicated safe arena, under 17's can sample driving with a qualified instructor sat alongside.
The Under 17 Car Club . It was started in 1976 by Sandie Barry who realised there was no opportunity for youngsters under seventeen to drive cars. The Club is run entirely by volunteers  with no full or part-time paid staff.
The aim of the club is "to enable under age drivers to practice and improve their driving skills legally and safely, in a variety of different vehicles, under properly supervised conditions, and to take an active interest in cars and motor sport and ultimately to produce safer young drivers on our roads at age 17 and beyond".
Come and see them at the show .